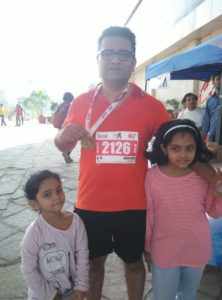 the second one this year, last one was on 15th of January. So what was special about this one that it merits a write-up? I learnt a few things.
This was my first official half marathon, before this all have started from the pavement in front of our home and ended right where they started. Among other things I am an optimization consultant and my job is to extract the maximum amount of juice possible from web servers. I cannot for the life of me justify a trip to the start line which is >1 km away from home, let alone more than 21km as in the case of SCMM. This HM was something I kind of got steered into.
Kaustubh, my cousin (oh yes I can see people scratching heads…. will tell you that story some other time) had signed up for the marathon while on leave. Upon returning from leave he received orders to join his new ship at Porbunder (he's an officer in the Indian Navy). So yeah obviously he couldn't have run this marathon while simultaneously navigating his missile boat off the coast of Gujarat. So he messaged me and said "bhaiyya will you run in my place? I've already paid the fees and all so it'll all go waste otherwise". I didn't have to think too much, the whole nation has been standing in lines in front of ATMs because the soldiers are standing at the border and here was a brother-soldier that too on the evening of 26th January, asking me to run a mere 21km in his place, of course I would run. So began the preparations.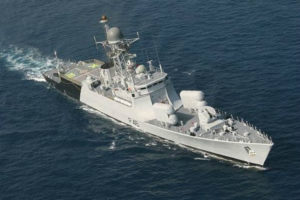 I stopped running long distances a week before the big one. Did do 5K walks, in the evening, with the wife and on one particular occasion even a 6.4K one but no more than 4k runs once in a while. Started getting into the zone. I had just run my annual quota of exactly one solo half marathons on the 15th of January. So this was going to be a new thing. I do  a 15km run once a week besides the usual 5-10Ks daily but 21km is reserved for the third Sunday of January to coincide with the day when the rest of the world runs the SCMM 21km away from where I live…. see I'm done, recovered and out running errands by the time the neighbors stumble back from the official marathon, we both ran 21K they got a medal for their efforts and a lot of FB likes….. I don't even have an FB account! Enough said.
Then on the 31st disaster struck. I sensed it coming but was adamant about taking any medicine. By the morning of 1st Feb, I was croaking badly. A bad throat infection. I rarely if ever fall ill and usually running is the remedy. This was pretty debilitating, soon I was coughing like a full blown case of lung cancer stage 4. I was sleeping a lot as well. Could hardly afford to be unwell at this crucial time, workwise as well. So reluctantly popped a crocin on the night of the 4th and went to sleep hoping things would be much better next morning.
Woke up at 4:40 AM coughing violently. Sonali woke up as well and said maybe I should skip the run as I sounded worse than yesterday afternoon. I figured she was right so just went right back to sleep, only to wake up again at 5:15. I jumped out of bed, put the water to boil, put the coffee in the percolator, drank the warm water, took a quick shower, changed, said a quick prayer, grabbed the keys, Sonali pinned the bib to my tee and after a quick hug I burst out the door hoping to reach by 6 AM. The kickoff was supposed to be 5:45 but I figured, from my scant experience with marathons, that it wouldn't start before 6:30. Wasted almost 15 minutes trying to navigate my way through the crowd looking for a parking spot. Finally parked about 2km from the stadium and ran/walked/jogged to the starting point. A huge crowd was standing there. 6:10!! Great!! I was so right no one had left. Somehow all the bibs I was seeing were numbers that started with the number '1'. Panic suddenly, I asked a guy standing in the crowd "this is the half marathon right?". He looked at me incredulously "no 10K the half left almost half an hour back". "OH EFFFFF!!"…. made my way to the head of the crowd and waved to one of the organizers standing in front, without me having to say anything he looked at my bib and said "sir the half is already gone GO! GO! GO!"….. so I went while the rest of the 10Ks stood wondering "we also want to go"…… The chip time says I left at 6:11 AM
It was pitch dark and the volunteers were also not very active for the first km or so. I mean not one soul and the street lights had been turned off. I was already badly fatigued in the 2km stretch when I heard loud whistling from behind me, suddenly all the volunteers and pacers were awake. I was overrun with emotion "all for me?!! Really!!! this is so sweet, so this is why people go to marathons"…. umm yeah that emotion lasted for a good 7 seconds. The first of the 10K runners overtook me even before I saw the 2km board come up. I guess by the time I reached the 5K mark 70% of the 10K runners had overtaken me and were returning. I just plowed on ahead… breathing in a deep and steady rhythm and maintaining an even keel. No sudden emotional outburst or being instigated by really old people overtaking me. I had 19 more km to go and I did not have the physical strength today to get into a race, besides, let's face it I run pretty slow even on a good day.
I had intended this to be the "this will cure me" run and was taking it slow and steady, well 7'30" per km type slow and steady for the most part. I was coughing off and on but generally the cool, less polluted early morning air was doing its job. At around 2.5km from the midway the 21K runners started passing me on their way back. Some of them had an incredulous "he doesn't look disabled or otherwise encumbered what's he doing 5km behind us??!!" look on their faces. I smiled wide and gave them a thumbs-up as they passed by. The legs were doing fine so far. At the midway turn off I was cheered on by the volunteers and a bunch of kids sitting around, "good show, good job!". I gave them all a sheepish grin shook my head and said "I guess you guys can wind up here now and go back I'm the last one passing by"…. kept going and then I passed the first and then the second and then a third and finally actually a fourth runner. At around the 12km mark the body started giving way. I was aching at places that I never realized existed. My left shoulder, for heaven's sakes it wasn't as if I was running with a bottle of water in my hand…. oh wait yes there was a 200 ml half full bottle in my left hand… ok I switched it to my right hand. By the time I neared km 13 the right shoulder was aching bad. So I finished the water and kept the bottle in one of the hands waiting for a wastebin to show up. The groin area had given way now. There's a ball and socket joint in the pelvic area, one had read at some point, today I knew exactly where and how badly it could ache when the ligaments were stretched to breaking point. This is where I should just give up, fall to the side and wait for the ambulance I started thinking.
So yeah I as kind of ready to give up and then the thoughts began to change… a marathon is a mind game, it is not about physical strength, it is about mental resilience. Why am I running this marathon, more precisely who am I running it for?
I am running it for Golu, my younger brother who could not be here because he is out there defending the country.
I am running it to show my girls the importance of focus, dedication and grit
I am running it for Ira as she wants a medal just like didas Olympiad gold
I am running it for my brother who is part of the Indian Armed Forces, regardless of whoever starts it, the Indian Armed Forces will finish it, always.
BECAUSE WE ARE FINISHERS!!
km 16 was coming up now. Just 4 more to go and then I'd be in the stadium running the last km inside the stadium with the kids watching. Conserve your energy walk a mile. So I walked and messaged Sonali that I would take another 45 minutes. By now for 5km I figured at 9minutes per km that was what it would take. They were just getting out of bed and getting ready to come to the stadium. I met an old man running/walking. He asked me "two more kms?" I said yes two more and then another one inside the stadium. I was coughing a little less, the overall fatigue level was at its peak now, however, my blood pressure was pretty decently low as I couldn't feel the blood in my eyes (yeah there have been times when I have felt bloodshot eyes when wrapping up a good 21K). I walked a few steps with the gent. He asked me how old are you? I said 40, out of courtesy I asked him how about you? He said "I'm 68 completed 69 running!!!"…. I was like "get out of here you don't look a shade over 39″…. we talked as we walked. He told me of a friend in the Navy who retired as a rear admiral last year. I told him why I was running, how I almost did not turn up and why I was running almost 30 minutes behind the pack. Then we came up on a bus stop and he sat down "my knees are hurting you carry on I'll rest for a bit". I said "it's ok I'll wait with you not like I'm winning the marathon anyway"…. he laughed and waved me on. So I jogged away. The last couple of kms are the worst. It took me 9 minutes to get to the stadium which was roughly 1km away. Once inside the stadium I had a fervent urge to kick off my shoes. The last km was on grass, nice soft grass… so inviting.
And then I heard her…. "paaaaapuuuu bhaag"…. the little one was in the pavilion high up somewhere watching. I waved in the general direction and kept jogging. Comfortably crossed the finish line and climbed up the stairs to where the kids and Sonali were waiting. Done.
The throat infection is still there, there's a bad congestion in the chest area as well, I do not like doctors not sure why not. I have aches in places I did not know existed. I've run at least 8-10 half marathon distances so far but none while in such a bad shape. However, I am ecstatic about the fact that I finished. The fact that I finished last is immaterial(well there were a few people who came up behind me or did not complete but in my age group probably none). I have known it for a long time and now I understand it much better, everyone is running their own battle, do not judge comparing them to your situation. You do not know how happy they are coming in last also :D. I hope Ria got the message of focus and grit , that was mainly for her. SG later told me that I was pretty cool about the whole thing as they had been standing and watching and even people completing 10K were so boisterous while I just came in like "yeah that… .walk in the park" and said nothing at all about the run (well here you go all 5000 words of it :D)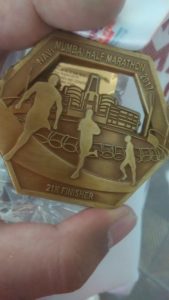 The idea is to run a half every month and eventually improve timing. But the more important thing is to take life lessons from this and improve myself.