So we walk a bit… the three girls and I…. 31st evening we figured lets go get some gifts for friends…. so we walked to a nearby mall. Ira loves this particular stretch of walking as it involves crossing the nearby Vashi railway station and she gets to see a lot of trains. Once at the mall she insisted on making a grab for the car keys which I was carrying just in case the girls felt too tired and I had to come fetch the car to ferry them back (it's 1.5km so could have happened)…. after a lot of pleading she gave up and let me hold on to my "precious" (the car keys)….
We pottered around in FabIndia, The Bombay Store, Landmark and finally Hypercity (for the always required groceries)…. by the time we were done with groceries Ira was asleep on my shoulder. We walked back home and proceeded to figure out dinner. I again stepped out to get some rotis and boneless chicken figured no point eating out on the last day of the year cause lately every time we do that we end up wondering why we ever bothered with the grease and masala overdose…. cooked a super chicken oriental style had dinner all by our two tired selves… a rare occasion as all parents would know (both the kids were asleep now they had had their dinner earlier in the evening before we had left for our walking trip to the mall)…. and went off to sleep (and wait for the phone calls) by 11:30….
Yesterday morning woke up at 5:30 and then woke up the girls… the plan was to head over to a nearby park… the girls, all three of them were groggy and protested accordingly but Ria warmed up to the idea somehow…. so a compromise was reached I was to go run my 5k while the girls showered and got ready and then we would head out…. so that's what I did…. had intended to take a picture of the sunrise but it was kind of too foggy and anyway I was focused on running a faster 5k (managed 6'21" which is by far the best I've run post my shin splints…. which is still in recovery)…. got back home after around 30 minutes kids were still in the shower…. made coffee read a bit of the book I am working through lately and then we were ready to go….
NO KEYS!!! Whooops!! The car keys were nowhere to be found… I was like wtf we have never lost them in the 7 years that we've had this car. Anyway not wanting to spoil the start of the newyear we retrieved the backup car keys (a duplicate without the remote locking interface) and drove out… a few minutes on theroad and I thought ok lets mix it up a little more… so instead of heading to the park we drove over to a sea shore nearby (well 45km from home but its a nice drive)…. Sonali loves the beach and I figured she deserves to have a happy happy start to the new year… the girls like me love anything and everything 😀 so they were not at all a concern. basically great fun was had by everyone, we had taken along a bubble gun and I think it was the first time Ira saw bubbles like that…. the reaction was simply fantastic.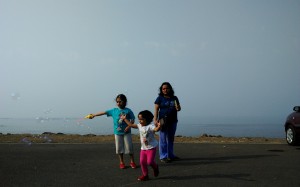 I had resigned myself to the fact that I would need to spend around 5K to get the locks replaced on the car after talking to the Information Desk at inOrbit on the phone… the girl had sounded almost confident that it was not going to be found…. anyway so I figured "it was the keys time, to go and maybe this was a good thing"….
Cut to today morning…. I dropped off Ria at school around 6:45 and went for my run…. while running I like to plan the day ahead, one of the recurring themes was to locate the lost key. I decided I would take Ira along with me to InOrbit around 11ish when it opens, visit all the stores ask for any lost keys they had found over the past 2 days and see if I can get lucky…. got home, coffee, buhby to SG, a small drive to calm the little one and then I fell asleep…. picked up Ria around half past noon and while talking to the girls on the drive back home from school remembered that I intended to go and try to locate the car keys…. Got home had lunch with the kids and then asked their caretaker to dress them up for a trip to the mall…. So we landed up at around 1:45PM…. girls their dolls and all….
First stop FabIndia… I asked one of the assistants there "hi, do you have a lost and found section here?" she says "try talking to the security guard he might be able to help". So that's where we went. I asked him "hi, did you by any chance see a set of car keys, Ford, we were here on the 31st and it seems we might have dropped them, this is a duplicate of the same keys" showed him the backup keys…. the guy lit up "car keys, yes hang on" then to the cashier "those car keys see from day before if they're still in that closet?"….and there they were!!! and there she was….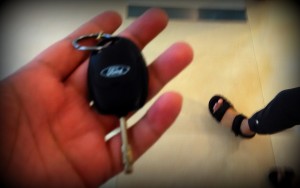 I almost had tear in my eyes… the elderly security guy I suspect also had tears in his eyes (I'm sure he too has kids and has had similar experiences earlier on in life)…. I thanked him profusely and thought about slipping him a bit of money just to make it clear how grateful I was….. then I decided against it (anyway I had just 50 bucks in my wallet I rarely carry cash because there have been instances when one or the other kid has generously thrown 500 rupee notes out the balcony)…. once again I thanked him pocketed the keys and we came back home (there was a slight diversion to buy donuts to celebrate but the Stanchart ATM at inOrbit was broken so donuts did not happen)…. I think she had taken the keys from me while I was getting the stuff billed at FabIndia and then I had probably scolded her…. that's when she left the key at the counter to go and sulk about the fact that pappy shouted at her…. and that's where these guys found it….
I guess "PERSISTENCE" and "ACTION"… you never know what you might get if only you act upon the instinct… are the buzz words for the new year. The new year most certainly has started off with a BAM!!
Oh and I also have a Google Inbox invitation now… thanks Vinaya (not sure how it's different but I hear it's a big deal…. will read up and figure out why)